This shop has been compensated by Collective Bias, Inc. and its advertiser. All opinions are mine alone. #GetJohnsonsBaby #ChooseGentle #CollectiveBias
When it comes to our kids, we always want the best. When it comes to our sleep, we also… always want the best. I'm so excited to be teaming up with JOHNSON'S® and sharing my tried and true bath/bedtime routine. There are so many products, things to do, things to not do that are thrust your way especially as a new mom. I'm here to tell you, that it is not rocket science! Having well-rested kids is totally essential to surviving motherhood and it's easy to do!
IT ALL STARTS WITH THE RIGHT PRODUCTS
JOHNSON'S® is the iconic brand when you think of baby soaps, lotions and other products. They listened to parents around the world and improved their products tremendously! JOHNSON'S® is now made with 50% less ingredients, no parabens, no phthalates, hypoallergenic, and free of dyes & sulfates. These products have been used on my little's with even the most sensitive of skin with zero issues, that is why I am so glad to share them with you and take all of the guess work out of "WHAT DO I BUY?"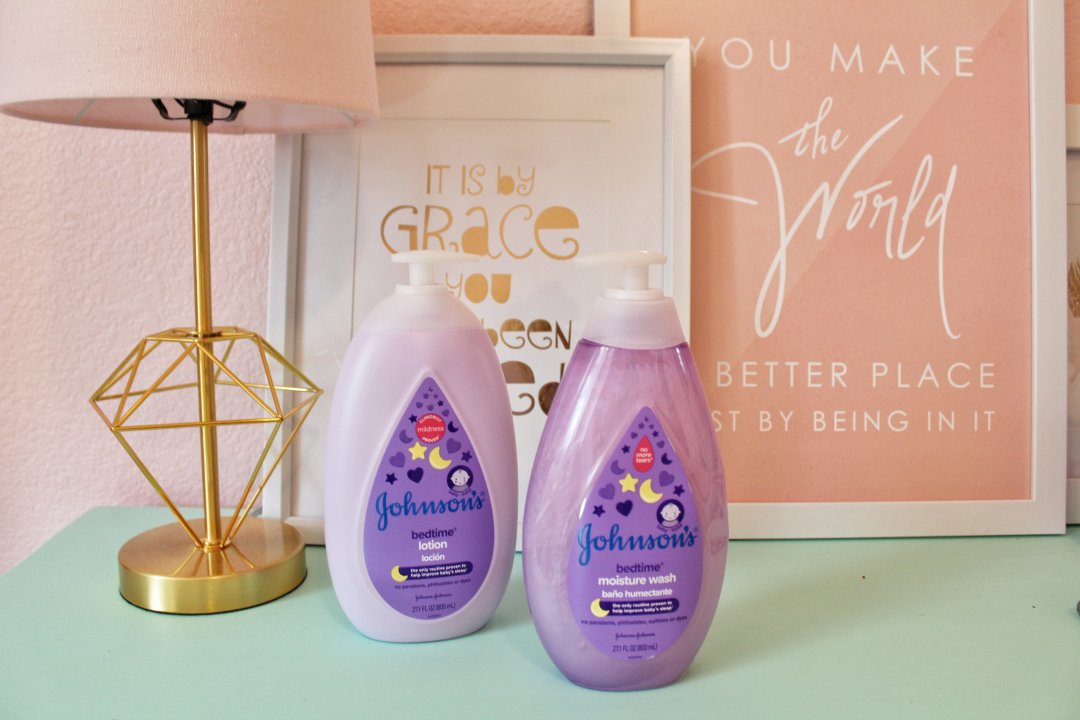 (Hover over this clickable image to shop my favorite products!)
What's even better? In addition to adding products to your registry (if you are expecting) when you shop at Target or Target.com before September 1st you'll get a $5 gift card when you buy 3 JOHNSON'S® products!  On August 26th there will be a Target in-store sampling of the Cotton Touch and the Bedtime lotions with a great coupon available to you, too!
WHAT I USE:
Soap: JOHNSON'S® Bedtime Wash
Hair: JOHNSON'S®  No More Tangles® 2-in1 Shampoo & Conditioner + Detangling Spray
Lotion: JOHNSON'S® Bedtime Lotion
ROUTINE, ROUTINE, ROUTINE
I am sorry to be so annoying about this, but the key to a successful bath & bedtime routine…is just that, making it routine. Sticking to your bedtime sometimes involves sacrifices like skipping that late night dinner with friends. I promise it will pay off and with young kids, especially babies, SLEEP IS PRECIOUS!
It may take a few nights of trial and error before you figure out what works best for your, your family, and your little ones, but don't give up! I'll share below our bedtime routine so you can get an idea. Some kids thrive off of routine (Cameron), and some just go with the flow (Eli)… assume that yours will thrive and if one day you find out that it doesn't matter you won't had to of learned the hard way!
OUR BEDTIME ROUTINE
6:30 to 7:00PM – Bath, Brush Teeth, Lotion, Pajamas, Brush Hair
7:00 – 7:30PM – Eli goes down closer to 7pm + Cameron plays quietly (no movies, tv, or being rowdy)
7:30PM: Read a few books to Cameron while she is in bed + sound machine on + lights out by 8PM
It seems really early and IT IS. We eat dinner closer to 5:30/6PM and wind down. On the rare occasions when we stay out later I can always tell the next day that they didn't get their full nights sleeps and are just a tab more cranky the next day. We do this EVERY.SINGLE.NIGHT without skipping a beat. Our kids know what's coming! That has helped Cameron tremendously with her nighttime separation anxiety, too. We double up on the JOHNSON'S® Bedtime Wash + Lotion with her and I don't know if it's magic or what but I really focus on putting it on her arms, chest and face and IT WORKS. It's helped relax her so much and we don't have any issues with bedtime since we have ditched the crib.
It seems really simple and anti climactic but the point isn't WHAT we are doing just that we do it CONSISTENTLY. I have learned the hard way that my kids, especially Cameron, thrive mentally and physically with consistency in just about every aspect of their life.
SaveSave SaveSave SaveSave
SaveSave
SaveSave
SaveSave